Dialogic Diva Analog-8 Media Boards

Eight-port ISDN Basic Rate Interface Media Boards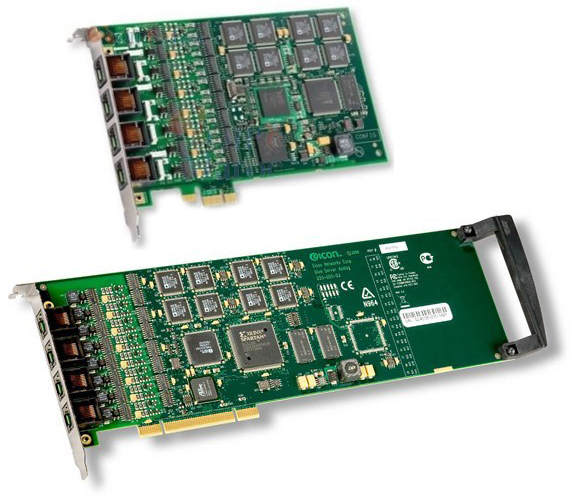 Click here to jump to more pricing!
Overview:
The Dialogic Diva Analog Media Boards provide two, four, and eight ports and serve as an excellent communication platform, which scales from 2 to 64 channels (phone lines) per single server.
The Diva Analog Media Boards offer voice, speech, conferencing, VoIP, modem and fax features, and can serve as a base for many communication applications.  The boards are supported by many standard applications, and are also suitable for new application development. Diva Analog Media Boards are available in Low Profile, Half Size, or Full Size form factors and are available in both PCI and PCI Express (PCIe) versions. Diva Analog can be seamlessly combined with other Dialogic Diva Media Boards, such as E1/T1, ISDN PRI/BRI, and VoIP.
Because both PCI and PCIe versions share the same feature sets, migration from a PCI Server hardware to PCI Express hardware is easy. PCI and PCIe versions can also be used in the same server.
The Diva Analog Media Boards support the same set of application interfaces as other Diva Media Boards: the three Dialogic Diva APIs as well as CAPI, COM port, WAN Miniport and TTY.  Because of consistent interface support, applications written for one Diva Media Board will normally work without modification with Diva Analog Media Boards.
The Diva UM-Analog-2, UM-Analog-4, and UM-Analog-8 Media Boards support fax transmissions on half (50%) of their available channels.  The feature set of the Diva Media Boards in the UM series has been designed to meet the needs of typical Unified Messaging applications.
The Diva Analog-2, Analog-4, and Analog-8 boards support V.34 fax transmissions on all available channels.  The Diva Analog-2, Analog-4 and Analog-8 boards are normally referred to as part of the Universal series.
Features and Benefits:
| Features | Benefits |
| --- | --- |
| Onboard CPU with large RAM and powerful FPGA chip for fast data streaming between the host CPU, the DSPs, the phone line and the other active components onboard | Can remove performance bottlenecks by offloading key real-time tasks that would ordinarily place an excessive burden on the host server, allowing Quality of Service (for example, voice quality and connection speed) to be more consistent |
| One powerful DSP dedicated to each communications channel | Provides real-time processing of complex operations (such as V.90 data modem, V.34 fax receiver and transmitter, voice compression, or echo cancellation) without reducing overall system performance, which lowers implementation costs |
| Sophisticated hardware design | Operates with low power consumption |
| Conforms to plug-and-play standards | Permits easy installation and operation |
| Implements most supplementary services and many different analog signaling protocols | Allows applications compatibility with major PBXs and can make a system based on Dialogic Diva technology ready for worldwide use |
| Pulse and tone dialing | Handles enterprise voice, conferencing, fax, and remote access applications via any PBX offering analog trunk interfaces |
| Voice packetization into Real-time Transport Protocol (RTP), adaptive jitter buffer, voice compression (G.726, GSM), and Comfort Noise Generation (CNG) | Permits legacy voice, speech, and conferencing applications to be used with VoIP clients and IP phones |
| Supports the same programming interfaces as other Dialogic Diva Media Boards, including CAPI, Dialogic Diva APIs and others | Reduces porting efforts and time to market by making Diva Media Boards compatible with most standard telephony and communications applications |
| Up to eight Diva Media Boards of the same or different types can operate concurrently in a single server | Easy scalability and flexibility to address an organization's communications needs in changing environments, such as VoIP |
Specifications:
Technical Specifications
Voice resources
8
Fax resources
8 (Universal series) and 4 (UM series)
Conferencing resources
8
Max. boards per server
8 (tested by Dialogic); more than 8 are possible (application and server dependent)
CSP
Yes
Form factor
Low Profile: 2-port PCI/PCIe
Resource bus
PCI rev 2.2 up to 66 MHz or PCI Express 1.0a x1 lane (3.3/12 V)
Connection
8 RJ-45 connectors
Network interface
Analog
Signaling
Loopstart
Operating system
Windows and Linux
Volts
PCI: 5; PCI Express: 3.3 and 12
Required accessories
None
Hardware

32-bit RISC CPU, 100 MHz, 131 MIPS
8 DSPs (32.76 MHz and 65 MIPS)
16 MB onboard SDRAM Memory
Telephony interface:

4 x RJ-45 (8-port), RJ-10/RJ-11 cables and RJ-45/RJ-10 adapters supplied
POTS trunk interface
Loopstart signaling

Physical dimensions:

4/8-port PCIe: 167.65 mm x 111.15 mm (PCB)
4/8-port PCIe: 180.96 mm x 126.31 mm (with standard bracket)
4/8-port PCI: 312.00 mm x 106.68 mm (PCB)
4/8-port PCI: 325.310 mm x 126.37 mm (with standard bracket)
4/8-port PCI: 352.17 mm x 126.37 mm (with interface bracket and retainer)

I/O addresses, memory, and interrupt allocated automatically
Plug-and-play interface
PCI: PCI 2.2, up to 66 MHz, 32 bit (also supports 64 bit dual address cycle DMA), 5 V supply required, 3.3 V, or 5 V universal signaling, supported in backwards compatible PCI-X slots
Production quality: ISO 9002

Power Consumption and Environmental

Power consumption:

8-port PCI: 0.5A @ +5 V (typical)
8-port PCIe: 0.34A @ +3.3 V and 0.22A @ 12 V (typical)

Operating temperature: 10°C to 50°C
Storage temperature: 0°C to 70°C
Maximum tolerance in voltage fluctuation: According to the applicable PCI or PCI Express specification

Diva System Release Software and Dialogic Diva SDK Software

Supported operating systems: Windows and Linux. Details at www.dialogic.com/systemreleases
M-adapter feature (Dialogic patented technology): Combined Virtual Adapter, Internal Call Transfer, Explicit Call Transfer Emulation
SNMP support:

Windows: v2c
Linux: Net-SNMP v1, v2c and v3

Application interfaces (provided by Diva System Release Software and Diva SDK Software):

Microsoft: Diva API, Diva API for .NET, Diva Component API (VB.NET), COM Port, WAN Miniport, CAPI 2.0, extended CAPI, VoIP (SIP/RTP)
Linux: Diva API, TTY, CAPI 2.0, extended CAPI, VoIP (SIP/RTP)

Features – Signaling

Pulse dialing
Analog caller identification (via FSK and DTMF signaling)
Tone (DTMF/MF) dialing
Hold/retrieve (via hookflash)
Collection of post dial DTMF digits
Call progress analysis:

Busy tone detection
Ring back tone detection
Special Information Tone (SIT) detection
Fax/modem detection
Dial tone detection

Features – Media Processing

Voice and speech:

G.711 coding (A-law, µ-law selectable)
DTMF detection, generation, clamping, and filtering
Generic tone detection and generation
Pulse tone detection
Full-duplex voice, barge-in
Voice Activity Detection (VAD)
Silence detection
Human talker detection
Recording Automatic Gain Control (AGC)
Pitch control
Audio tap
G.168 echo cancellation, up to 128 ms tail length

Voice over IP (VoIP):

G.711 voice coder (64 kbps, µ-law, A-law)
G.726 voice coder (32 kbps)
G.729 voice coder (VoIP licenses required)
GSM voice coder (13 kbps)
Adaptive jitter buffer
Voice Activity Detection (VAD)
Comfort Noise Generation (CNG)
Real-time Transport Protocol (RTP) framing
G.168 echo cancellation, up to 128 ms tail length

Switching and conferencing:

Onboard and cross-board switching and (large) conferencing via line interconnect (call tromboning)
Automatic Gain Control (AGC)

Support for Fax class 1 and 2
Support for Fax Group 3, T.30:

V.17, V.29, V.27ter, V.21, V.34 modulation
Fax polling/ fax on demand
Up to 33.6 kbps with each channel (send and receive)
Page formats: ISO A4, B4, A3
Fax compression MH, MR, MMR
Error Correction Mode (ECM)
Standard, fine, super-fine and ultra-fine resolution
Color fax (JPEG-format)

Data modem (RAS, POS and other Low Bit Rate (LBR) applications) (modem licenses required):

V.21, V.22, V.22bis, Bell 103, Bell 212A, V.32, V.32bis, V.34, V.42, V.42bis, V.90, MNP4, MNP5
Modem with extension: V.18, V.21, Bell 103, V.23, EDT, Baudot45/47/50 incl. DTMF, V.42, V.42bis

Warranty
5-years