Dialogic Eiconcard Cables

Multi-protocol Serial Boards, Connectivity Software & Development Tools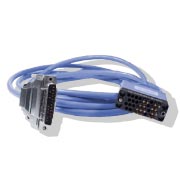 Dialogic manufactures quality cables for use with the Eiconcard product range. Our Cables are designed and manufactured to the same standards as our Eiconcard range which will provide reliable connection fits to all our products.
The most important things to know when choosing a Cable are:
Which card did I buy? 
What interface am I going to have on the Modem or Switch (V.24, X.21, V.35, V.36 or EIA 530)
We have attempted to simplify and help you below if you do not know.